Testimonials
Maintaining 200 lb. Weight Loss for 19 Years
My name is Mary F. and I am a food addict.  I was morbidly obese for the first 37 years of my life.  I weighed 160 pounds when I was in third grade and weighed almost 300 pounds throughout my high school years.  My top weight was 340 pounds when I was 34 years old.  On five separate occasions I lost 100 pounds only to gain it all back.  I felt hopeless and depressed most of the time, and I repeatedly considered suicide as the only option to relieve me of the intense shame and despair I felt.
In 1990, after deciding I would eat myself to death because I could not stop bingeing on sugar and flour products, I went to treatment for food addiction.  I learned that I am a food addict and that I cannot eat certain foods without creating cravings that I am unable to resist.
Now, I have maintained a 200-pound weight loss for 19 years. I have not binged since 1990 and no longer experience cravings.  I have a normal size body.  I am healthy.  I have not had any form of bariatric surgery.  Rather, I treat myself as a food addict.
From Fat to Thin: One Man's Story
Fat Boy, Thin Man tells the story of Michael Prager, a journalist whose fat childhood became an obese adolescent that lasted into his 30s. He was a champion dieter, losing more than 130 pounds three times but always finding it again, and more. As a child, he stole food, stole money for food, hid food, lied and schemed for food, and continued as an adult, if with a slightly more refined technique:
A 365-pound guy walks into a sub shop, with or without mustard stains on his sweater, and orders a couple of foot-longs. Anyone in the place is going to think they're all for him, no matter what he does. That's why
, sometimes, I'd just go in and order, and let them think what they wanted. But sometimes I'd go with the list.
I'd grab a scrap of paper off the floor of my car and scribble on it, or write it out as if it were real, in case the clerk grabbed it to check for grammar or something. Then I'd roll out the driver's side door and roll on inside. In the mid-'80s, friends and colleagues at work suggested he wasn't very happy and urged him to seek counseling, a path that led to suggestions that he might be a food addict, rather than just a weak, lazy slob. It wasn't welcome news by far, but it eventually opened a range of changes in attitude, practices, and treatments that are sustaining a 155-pound weight loss for two decades.
Over the next several years, my life would head in beneficial directions I had neither expected nor even contemplated: Relationships, work performance, and personal productivity all began to improve; I was able to take on challenges and expand creatively; I grew willing to see the world in new ways and to take responsibility for my actions. I started dating successfully. And that doesn't even broach what most people would consider topic No. 1: I lost weight in a balanced, sane, and healthy manner and kept it off.
Recovery didn't arrive on a straight path, but it did arrive, and continues to. 
The Fat Boy Thin Man book is available on this website, The e-book is available at smashwords.com.
Bariatric Surgery Fails, Food Addiction Treatment Succeeds
When Deborah finally accepted that diets did not work for her and that therapy did not curb her overeating, she elected to have bariatric surgery. Deborah lost weight at first, but then she found herself eating out of control and gaining weight faster than ever. She could not stop until she discovered that she was chemically dependent on specific foods and starting treating herself as a food addict.
I have always known I was a competent person. I am a graduate of an Ivy League university, earned two graduate degrees with honors, and serves capably as one of the nation's first women ministers with her own congregation. So, it was confounding to me that I could not control my eating or my weight.
I wasn't overweight as a child, but once in college I became morbidly obese. I tried diet after diet – always succeeding at first, then gaining it all back and sometimes more. Some of the therapy approaches I tried also worked temporarily, but I gained this weight back too. I tried Overeaters Anonymous, but could never achieve a stable abstinence.
So, at my doctor's urging, I elected bariatric surgery. This, too, was successful at first. I lost more than 100 pounds, felt better, and my blood test results started pleasing the doctor. Then I started overeating, just a little at first, then wildly out of control. I was very confused and really depressed.
Someone told me about her success with ACORN's (Food Dependency Recovery Services) primary intensive for food addicts. I was skeptical that it would work for me, but I had to try it.
By the end of the five-day workshop, I was "rigorously abstinent" from all my binge foods. I had a few difficult days of detoxification, but then I knew that something was different. My food Craving disappeared and my crazy thinking about food lessened incredibly. That was almost two years ago. I haven't picked up any of my binge foods and I've found an inner peace. I am maintaining a 220-pound weight loss with ease. I've never felt or looked better.
I may have had to fail after the bariatric surgery to fully break my denial that I am food addicted. I have no regrets, and I am grateful to be learning how to work a daily recovery program as a recovering food addict
A Vegetarian Solution to Food Addiction
Miki was overweight and had a history of dieting, losing some weight and then soon gaining it back.  One day she accompanied her husband to see Dr. Neil Barnard. Her husband had cancer, and Dr. Bernard's center had a reputation for using both traditional medicine and a holistic nutritional approach.  They went to a series of classes at the center and started taking the steps also suggested in Dr. Bernard's book, Breaking the Food Seduction: The Hidden Reasons for Craving and 7 Steps to End Them Naturally.  Miki decided to do the program with her husband.
They followed the suggested steps which included elimination of sugar, chocolate, cheese, and fatty meats, and replaced these and other foods they craved with a primarily vegetarian diet.  Several months later Miki wrote to Dr. Bernard and told them they were both feeling "wonderful." Not only was her husband much better, so was she!  Here is part of her story:
The most amazing things have resulted from this endeavor. I have enjoyed the new foods and wonderful tastes, but also a marked improvement in my health.  I have lost sixty-seven pounds in one year.  For the first time in my life I was not on a diet. I was able to increase my exercise regimen due to the weight loss.  My cholesterol is under control (having dropped significantly in the last year).  One of the most amazing results for me has been the disappearance of all diabetic symptoms. My blood sugar measurements have decreased, on the average 185 points without medication.  I feel fantastic, and, for the first time in a long time, I have a clean bill of health from my annual checkup.  We started these classes for my husband; however, I have gained as many benefits along the way as he has.  You have my profound gratitude.  (Bernard, 2003)
(Comment: Miki hadn't called herself a food addict but she likely was in an early or middle stage of chemical dependency on food.  When she treated herself as if she was food addicted, it worked.)
Morbidly Obese: Breaking the Addiction to Food
Nearly 4 years ago, Amber W. was struggling with her weight. At the same time she was struggling to fit into a society that puts blame and shame on the obese. But an involvement with a 12 step program put her on a path to truth of self, recovery and eventually life changing weight loss. "Prior to being introduced to 12 steps, my life was about food and the acquisition of it," said Amber. Only 48 months ago Amber weighed nearly 320 lbs with a dress size of 26. Tired of fad diets and breaking self promises, she turned to the help of the well-known 12 steps for addiction and as she put it 'got real' about her food addiction. She found a long term solution for her food issues in understanding the science of addiction to food and by committing herself to the 12 steps of addiction recovery.
Both Amber and her colleague Dr. Vera Tarman agree that weight loss is only one result of the recovery process for the food addict. Amber went from sneaking food and staying away from public interactions to becoming an advocate for food addiction in the public eye, truly a real life success story.
"The process of surrendering to addiction is difficult for most people," said Dr. Vera, Canada's foremost food addiction expert. "For those people like Amber who embrace the science behind food addiction and the need to change the way they think and act, the results of recovery can be remarkable."
Today Amber has lost over 150 lbs and more importantly is totally committed to the recovery process, including abstinence from sugars and starch. "It's one day at a time for me, like it is for most people recovering from addiction", noted Amber. Amber has taken control of her life and her story is one of breaking through the denial of her addiction and developing a passion for living life to the fullest.
When I am asked to tell my story, I always start by saying that I was born September 10, 1950 and on September 11, 1950 I was a compulsive overeater. I truly believe that. I cannot remember a day in my life that food was not the number one thought in my mind until I went to COR Retreat.
My first recollection that I had a food problem was early in my grade school days. I remember going to get school clothes and having to go to the "chubby section" to find something that fit. That has never changed, to this day. I can remember never being able to find the "in clothes" that the other people were wearing; they didn't make them in my size. I can remember the pants that would wear out between the legs because I didn't have a lot of different clothes because it was hard to find stuff that fit me. I can remember zippers breaking and seams splitting. "Holy nightmare," not good memories!
My relationship with food and being overweight has been with me all my life until COR Retreat. It ruled my life! I was powerless over food and it became my best friend, helping to deal with all my problems.  I used food while going through school to help deal with the pain of low self-esteem. I didn't feel that I fit in with other classmates. I never had the relationships other people had. I would feel less than others. The only way I knew how to deal with this was with food and that would always make things worse.
I was in a serious motorcycle accident when I was 17 and became permanently disabled with a deformed left leg. How did I deal with the life changing experience?  I ATE FOOD! I had no life skills to deal with my emotions so I turned to food.
In my late teens I started the commercial weight programs to lose the extra pounds. For the next 40 years I fought with the yo-yo effect of losing and gaining weight. I could lose weight at the drop of a hat, but would gain it back just as fast and each time adding on a few more pounds. Toward the end of the 90's I started to give up the battle. I was resigned to the fact that I was never going to lose weight! My body was wearing out and I started using an electric scooter to get around because I couldn't walk that well anymore. I was very depressed and very heavy.
Then I did something I swore I would never do to lose weight because I knew "I could do this on my own!" I had a gastric bypass. I was very, very heavy when I had the bypass and lost 250 pounds plus, I thought my life would be great when that happened, but it wasn't. Within a couple years I started to gain weight, not because the bypass didn't work but because my food addiction was devious. I found a way to eat food that would feed the addiction and cause me to gain weight.
About six years ago, I gave up my battle with alcohol and joined a 12 step program. After about a year of sobriety, I found a 12 step program for overweight people. I hung around this program for a couple years but that did not accomplish much. I was still pretty much in denial about two things: that I had a disease and could not recover by myself.
I had a friend introduce me to COR Retreat. It was at a Saturday night speakers meeting that I heard a simple message that put me on the road of recovery. I heard the speaker talk about when they first started their journey. A sponsor gave them a food plan of 3 meals per day, nothing in-between, 1 day at a time. The speaker asked their sponsor, "What happens at night when I am hungry?"  Their sponsor said to them, "You pray!" That was the message I needed to hear. I thought, "That is something I can do!" I tried it that evening and that was the beginning of my abstinent journey!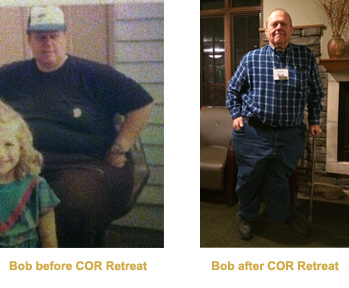 It has been wonderful being abstinent for the last 2 years! I have become an active member of a 12 step program for food. I have learned to live life on life's terms. I've lost my obsession with food!  I feel like a participant of life rather than a victim of life. I have learned to feel my feelings and that it is ok.  I am starting to accept myself. Basically, I am learning a new way of life that is really freeing and peaceful! I learned what the void was in my life. I would lose weight and feel like I had this energy I didn't know what to do with. I truly believe it was my spirituality that was not being nurtured. I was not "using" food anymore and that meant I had to deal with my feelings. I did not have the tools to do that.
Now, because of COR Retreat and the 12 steps, I have learned how to recover spiritually, physically, and emotionally and this lets me live a more peaceful, serene life.
I have been relieved of 190 pounds during this journey. It was interesting that the weight wasn't something I even thought about while writing this, but it is the byproduct of recovery. The saying, "food is but a symptom" is very true!  When I first came to COR Retreat I rode in on my electric scooter, now I WALK in to share my story of recovery with others. I will probably always have to use a crutch but at least I can now get around without the electric scooter!
I recently heard someone say that they were going to spend as much time and energy recovering as did they when they were compulsively overeating. That makes a lot of sense to me!  We all wonder what our calling in life is to be. At this point in my life I have to say that I want to spend as much energy and time in recovery as I did in disease!
About COR Retreat
COR Retreat is a residential retreat program that teaches a way to live free from the obsession with food through a 12 step program. COR Retreats are 5-day programs, scheduled each month at the McIver Center in Wayzata, MN.
Learn more about the COR Retreat Experience, and register online to attend an upcoming retreat. 
Below is an interview with Lisa who has nearly 4 years of abstinence and has experienced tremendous success with the program. In this interview, Lisa shares her journey, including her routine for maintaining for her abstinence and how she discovered a new way of living. 




Q: How long have you been abstaining from sugar?
A: I have been abstinent since August 7, 2013.
 
Q: How much weight did you lose?
A: To date I have released about 200 pounds from my top weight.

Q: Have you maintained your weight loss?
A: Yes, it has been over a year.        
 
Q: To what do you attribute your success in recovery after leaving COR?
A: I attribute my success to my willingness to give this spiritual program a shot, taking an honest look at my past behaviors around food and how I "showed up" in this gift of life, and being open to allow a power greater than myself to direct my life one day at a time.

Q: What are the daily actions you take as "insurance" against a relapse?
A: I pray for the willingness to do this one more day. I follow a food plan written by a nutritionist. I stay connected with people who share my disease. I read spiritual literature. And although not a daily action, I give back to COR through service. 
 
Q: How much time does it take compared to the time you spent (before recovery) on abnormal food behaviors?
A: There is really no comparison. My old life was consumed by what I can eat next, how much I can have, how can I control the food so I could control the weight.
 
Q: Do you feel deprived of food?
A: Absolutely not!  Even on "tough days" I am reminded that my food plan is enough.
 
Q: Why didn't you just go straight into the 12 step recovery rooms for compulsive overeating instead of attending a COR Retreat?
A: I walked into one of those rooms years ago and made a quick, false judgment that "I wasn't one of those people". The reality was I too far in my disease to even know that I had an allergy of the body and an obsession of the mind. I obviously didn't hit my bottom.
 
Q: Did you believe that you would have this kind of success when you signed up for a COR Retreat?
A: No, I had no idea that my life would be like it is today. Not only can I physically move better in this body, I actually can show up conscious, present and honest on a daily basis.
 
Q: What were your fears about attending COR?
A: I feared that I would be judged, that I wasn't good enough, and that I would be told that either I was a hopeless case or that I all I needed was will power to lose the weight.  
 
Q: When did you realize that this was the solution you had been searching for?
A: It wasn't until I left COR and made a commitment to work the program. I was gifted with a quick release of a chunk of my excess weight as I dove into an honest look at how I showed up for life. Once I felt the freedom of my bondage, I knew this was the solution.  
 
Q: How do you feel about COR now?
A: Without a doubt, COR saved and is saving my life! I honestly feel that I wouldn't be here today if I didn't attend COR. I am so grateful that Burt (founder of COR Retreat) followed his heart and started COR.
 
Q: What kind of service do you do for COR? Why are you still involved with COR?
A: I greet newcomers, share my story, attend the Open Saturday night meeting, provide EnCOR support and financially support COR through my company's non-profit community giving campaign.

Q: Why are you still involved with COR?
A: I believe in it! Doing service at COR is a very small payback to what COR so lovingly introduced to me. I come back to greet the newcomers because my COR brothers and sisters were there for me when I walked through those doors scared, lonely and desperate. I want to pass on that same unconditional love, acceptance and hope to someone else.

Q: If you could send a message to someone considering attending a COR Retreat, what would it be?
A: I would tell them that COR is a safe place, they are not alone and COR understands their deepest fears. I would tell them that there is hope, recovery is possible, and they are worth the investment.

Learn more about COR Retreat